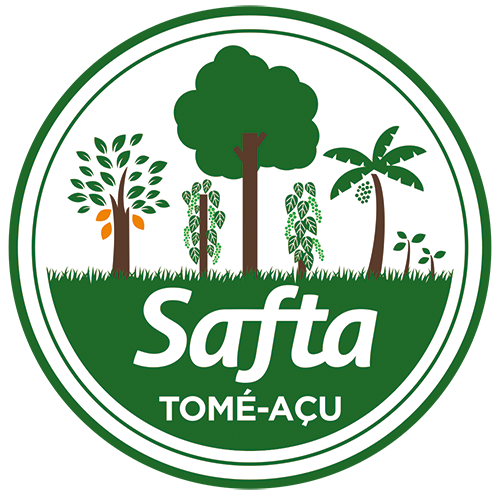 The development of the Tomé-Açu Agroforestry System - SAFTA - began in the 1970s through the intercropping of various agricultural, fruit and forest crops in the areas where decaying Black Pepper monoculture predominated. The System is inspired by the experience of the riverside peoples, inhabitants of the Amazon river banks, who planted in their backyards the polyculture of fruit and forest trees, imitating the Forest. More than 200 agroforestry models have been tested over time, intermingling with various species such as: banana, passion fruit, acerola, acai, cupuaçu, syringe, Brazil nuts, andiroba, bacuri, uxi, mahogany, etc.
The most promising crops were reapplied with agronomic definition of spacing, harmonious combinations of fruit and forest plants, establishing, in Tomé-Açu, the landmark framework of the Japanese Colonization's permanence, remaking the landscape from where there were vast plantations of pepper. kingdom, today there is a mosaic of agroforestry plantations, considered a true agroforestry laboratory.
Concerning global climate change, CAMTA seeks to raise awareness among its members to practice SAFTA on their farms, contributing to the reduction of deforestation in the primary forest, thus ensuring a pleasant working environment under the shade of the trees. fruit and forestry.
The dissemination of SAFTA has promoted an improvement in the quality of life of the communities involved, being the cocoa culture responsible for the regional economic base, thus ensuring a continuous production, respecting the local culture and eating habits, and thus ensuring the commercialization of products generated in the continuous and sustainable production chain.
Profile of the agroforestry system forming the successive production chain
Evolution of the Tomé-Açu Agroforestry System (SAFTA)
Degraded area
1 year SAFTA
5 years SAFTA
35 years SAFTA